When I get asked about moving data out of Power BI, I try to discourage that line of thinking. Power BI is a tool for ingesting, not disgorging, data. However, there are times when you really do need (not just want) to export data out of a report.
As of the September 2018 update, you can now copy a small selection of your data from a table or matrix, and paste it into Excel. Let's see this in practice.
First, let's distinguish this feature from the Export feature which has been available for a while. If I want to export the data in a matrix, table (or any visual), all I have to do is click on the three ellipses in the upper right hand corner of the visual, as shown below:
Then, choose Export data.
If you do this, you will export all of the data into a .csv file, which you can open in Excel. To be clear, this is not a new feature.
Let's take the same matrix. We want to extract only one value: '209'.
I hover over the value I want to select, and right click. I will now see a Copy option in the menu, then I choose Copy value.
Then I can go to Excel (for example), and paste:
This example seems kind of silly. Why would I bother to copy '209' and then paste it? OK, yes, that's a fair question. So what if you want to select an entire row of a matrix (which could be too long to retype)? You can now do that as well.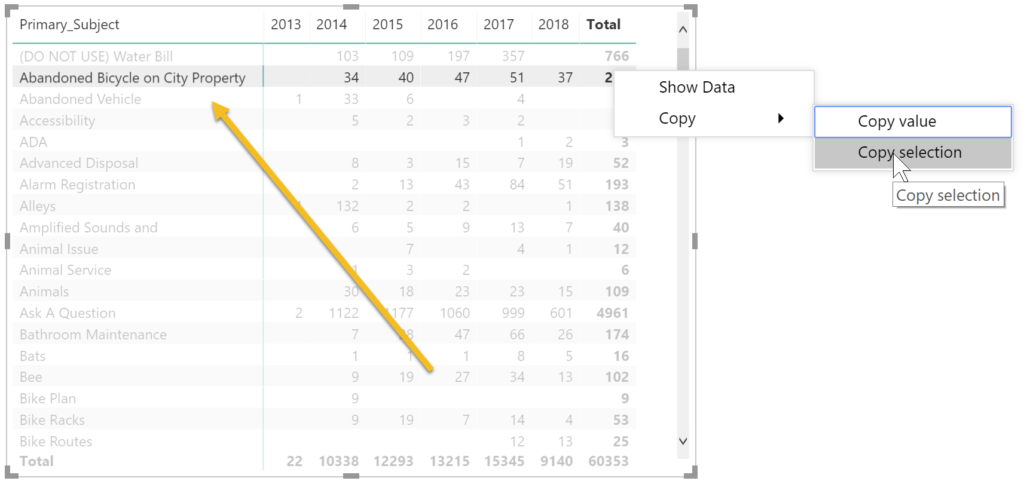 Select your row (or column) and right click. Follow the Copy command, and choose Copy Selection.  Open Excel, and CTRL-V (paste) Here's what you will see in Excel:
I think Copy selection is more useful than Copy value but, like everything in life, it depends your use case. Either way, I am happy that this feature is available.